5th Avenue: The Perfect Blend of Style and Durability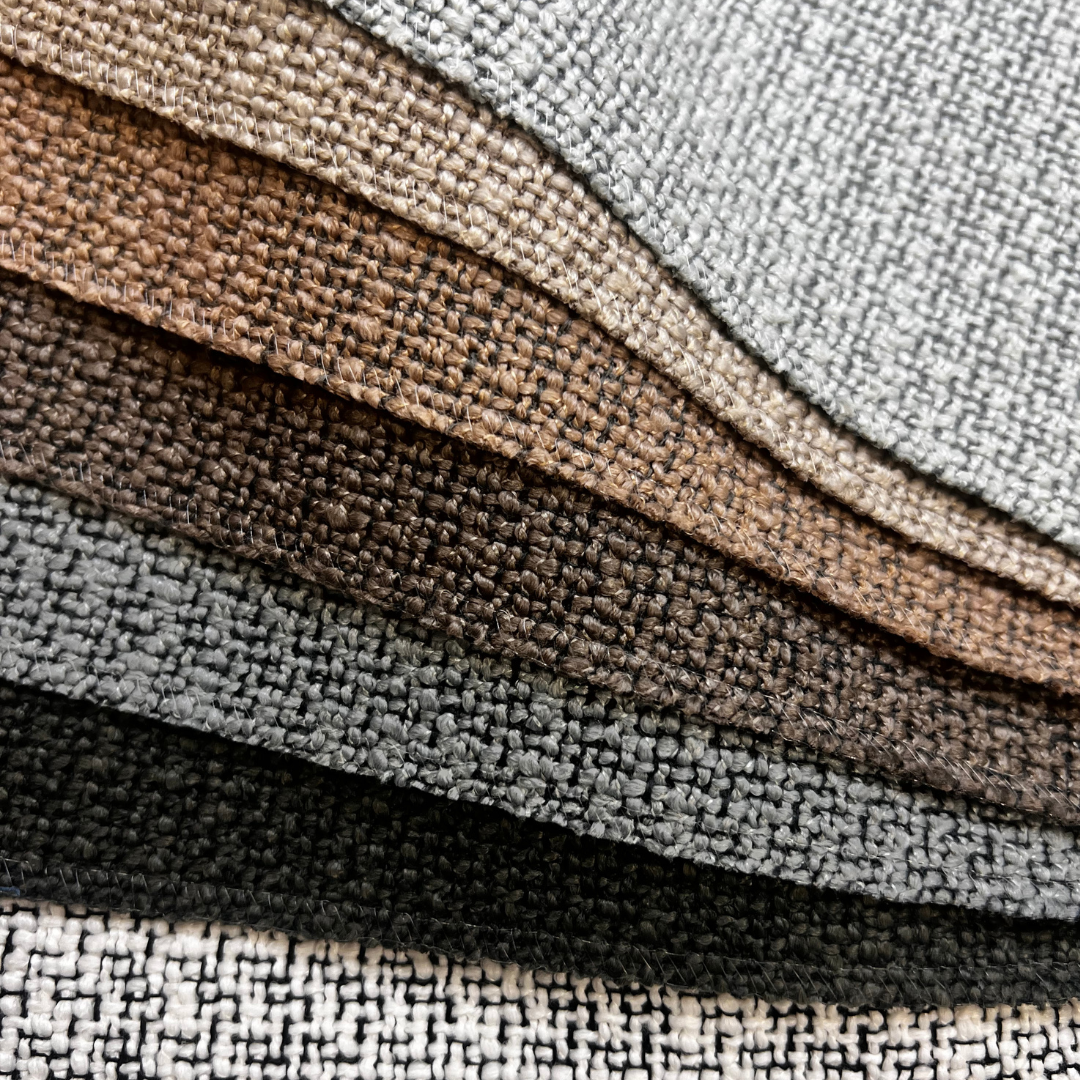 Are you in search of the perfect upholstery fabric that effortlessly combines style, durability, and comfort? Look no further than the exquisite 5th Avenue Solid Woven Texture Upholstery Fabric! This performance fabric boasts a luxurious woven linen look that will elevate any interior design project, be it for your home or a commercial space.
A Touch of Luxury: At the heart of the 5th Avenue fabric is its composition of 100% polyester, ensuring a soft and plush texture that provides the utmost comfort. Whether you're relaxing on a sofa or lounging on a chair, this fabric will enhance your experience with its gentle touch, inviting you to unwind in style.
Sturdiness and Reliability: The 5th Avenue fabric is more than just a pretty face; it's engineered for long-lasting performance. With its heavy-duty nature, you can trust it to withstand the rigors of everyday use. Whether you're reupholstering your favorite armchair or creating beautiful throw pillows, this fabric will continue to impress with its durability.
Designed for Versatility: One of the key attributes of the 5th Avenue fabric is its sheer versatility. This fabric is an ideal choice for a wide range of upholstery projects. From chairs to sofas, decorative pillows to ottomans, couches to bedding, and even drapery – the possibilities are limited only by your imagination. It's the go-to solution for interior designers and decorators looking to add a touch of sophistication to their projects.
Technical Specifications:
Content: 100% Polyester
Width: 56 inches
Repeats: Not applicable (N/A)
Fabric Direction: Up to roll
Weight: 540 g/m2
Cleaning Code: S (indicating solvent-based cleaning is recommended)
Abrasion: 50,000 double rubs (DR) - A testament to its durability against wear and tear
UFAC NFPA260: CLASS 1 (Meeting industry flammability standards)
CAL 117 TB117-2013: PASS (Compliance with California fire safety regulations)
Embrace Elegance with 5th Avenue: Whether you're a professional interior designer or an avid DIY enthusiast, the 5th Avenue Solid Woven Texture Upholstery Fabric is your ticket to creating spaces that exude elegance and comfort. Its softness, durability, and stunning woven texture make it the ideal choice for any upholstery project.
So, why settle for ordinary when you can indulge in the extraordinary? With 5th Avenue, your upholstery dreams become a reality. Elevate your living spaces and create an ambiance that leaves a lasting impression on everyone who steps foot inside.
Experience the Unparalleled: As you embark on your next upholstery project, consider 5th Avenue as the embodiment of sophistication and luxury. Revel in its softness, rejoice in its durability, and bask in the compliments it garners. Transform your living spaces with a touch of opulence – all one yard at a time.
Don't miss out on this opportunity to create an interior that echoes the grace and charm of the iconic 5th Avenue. Explore the myriad of possibilities this fabric presents and unveil the elegance it holds within every thread.
Choose 5th Avenue Solid Woven Texture Upholstery Fabric and redefine beauty in your living spaces today!
Leave a comment
Comments will be approved before showing up.