Rediscover Timeless Elegance: Bukhara Cut Velvet Upholstery Fabric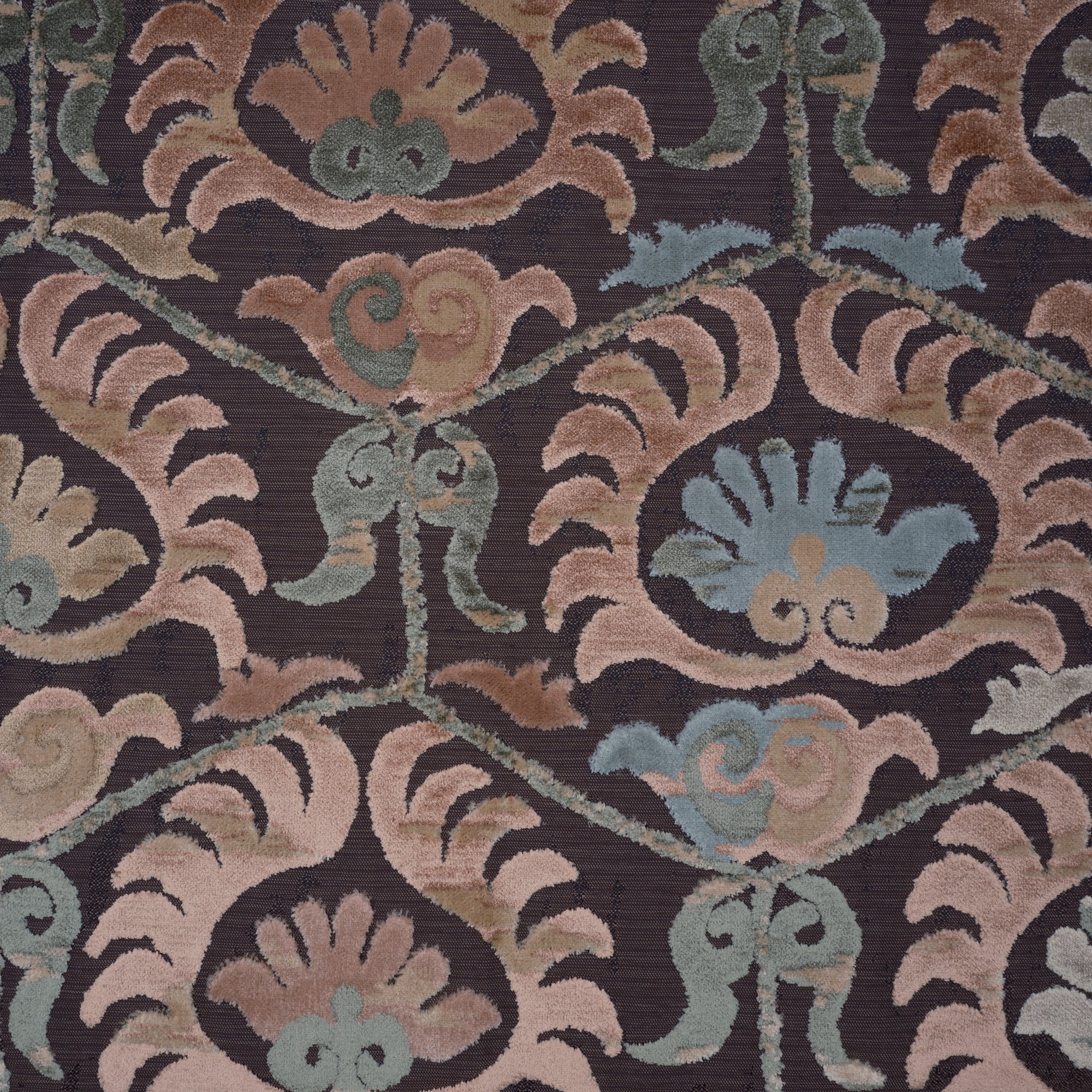 In the realm of interior design, some creations stand the test of time, weaving together the threads of tradition and modernity to form a masterpiece. Bukhara Cut Velvet Upholstery Fabric is precisely that—a timeless piece inspired by the vintage Suzani design, reimagined for contemporary tastes. Prepare to be captivated by its vibrant vegetable dye colors and slub ground, which breathe new life into this classic pattern, infusing it with a modern vibe.
A Tapestry of Rich Composition: Crafted with meticulous attention to detail, Bukhara is a harmonious blend of 42% Polyester and 58% Rayon. The combination of these premium materials guarantees a fabric that not only exudes elegance but also endures daily wear and tear with ease. The softness of Rayon and the resilience of Polyester come together in perfect harmony, making Bukhara a prime choice for upholstery projects that require both luxury and durability.
A Vintage Revival with a Modern Twist: Bukhara draws inspiration from the captivating Suzani design, an ancient art form characterized by its intricacy and delicate craftsmanship. The fusion of this vintage charm with vibrant vegetable dye colors adds a contemporary edge, striking the perfect balance between the past and the present. This unique blend is sure to delight both enthusiasts of traditional aesthetics and lovers of modern design, making it an ideal choice for versatile interior styling.
A Vibrant Statement: The colors of Bukhara are a celebration of life—rich, vibrant, and captivating. The vegetable dye hues breathe life into the fabric, creating a visual symphony that instantly catches the eye. Combined with the slub ground, which adds texture and depth, Bukhara is not just a fabric; it's a work of art that demands attention and admiration.
Technical Excellence:
Content: 42% Polyester, 58% Rayon
Width: 57 inches – offering ample material for various upholstery projects
Pattern Repeats: Horizontal (H) 28.34 inches, Vertical (V) 16.73 inches – ensuring a consistent and balanced design
Fabric Direction: UTR (Up the Roll) – for easy and efficient upholstery application
Medium Weight: A perfect equilibrium of sturdiness and suppleness
Weight: 460 g/m2 – a testament to its high-quality and luxurious feel
Cleaning Code: S (Solvent-based cleaning recommended) – for effortless maintenance and care
Abrasion: 100,000 double rubs (DR) – a mark of its exceptional durability
UFAC NFPA 260: CLASS 1 – meeting industry standards for flammability
CAL 117 TB117-2013: PASS – compliant with California fire safety regulations
Craft Your Masterpiece with Bukhara: Bukhara Cut Velvet Upholstery Fabric is a canvas waiting to be transformed into a living work of art. Its vintage-inspired pattern and modern flair present limitless possibilities for your interior design endeavors. From exquisite armchairs to statement-making throw pillows, let Bukhara be the key to unlocking creativity and sophistication in your spaces.
Elevate Your Interior Aesthetic: Embrace the elegance of the past and the dynamism of the present with Bukhara. Enliven your living spaces with its vibrant colors and refined design, effortlessly blending old-world charm with contemporary allure. Whether you're an interior designer seeking a timeless masterpiece or a homeowner aiming to revitalize your decor, Bukhara will undoubtedly add a touch of majesty to your surroundings.
An Unraveled Tale of Beauty: With every cut of Bukhara Cut Velvet Upholstery Fabric, you unravel a tale of beauty, tradition, and modernity. Bring to life the essence of a vintage Suzani design, refreshed for the modern age, and immerse yourself in the luxurious embrace of this exceptional fabric.
Discover the allure of Bukhara and redefine elegance in your interior spaces today! Let the artistry of Bukhara speak for itself as it weaves its magic into the very fabric of your living spaces.
Leave a comment
Comments will be approved before showing up.