Unraveling Beauty: Kashmir Cut Velvet Upholstery Fabric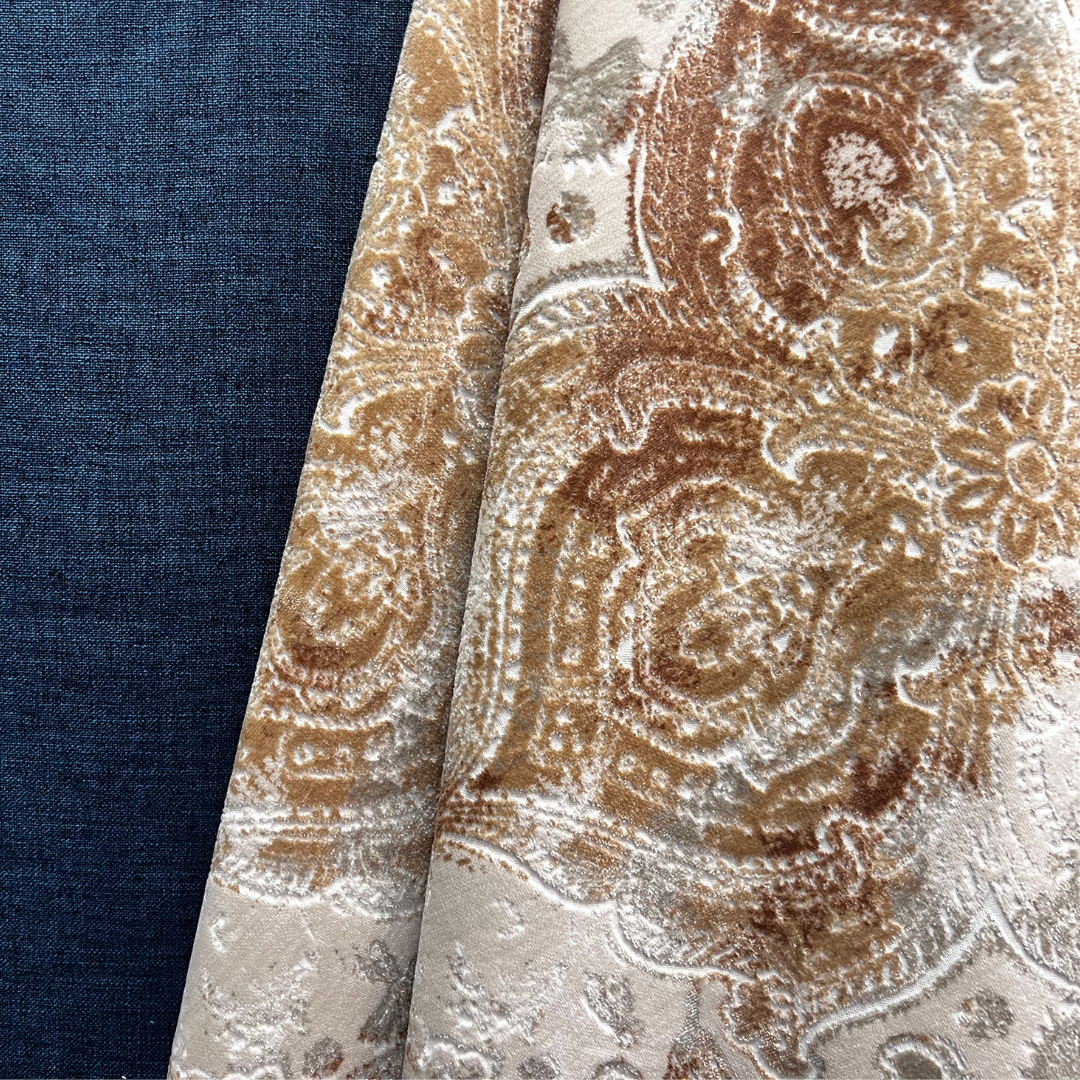 Step into a world of opulence and artistic elegance with Kashmir Cut Velvet Upholstery Fabric. This fabric is a true masterpiece, fusing the timeless allure of paisley motifs with a mesmerizing watercolor effect. With its large-scale frame-cut velvet, it creates an aura of luxury and sophistication, perfect for those seeking a transitional style with a vibrant multicolor dimension.
A Tapestry of Luxurious Composition: Kashmir is crafted from a harmonious blend of 42% Polyester and 58% Rayon, combining the best of both worlds. Polyester brings durability and resilience, while Rayon infuses a soft and lustrous touch. The result is a fabric that not only stands the test of time but also envelops you in comfort, making it an excellent choice for upholstery projects that demand both beauty and functionality.
Transitional Elegance Redefined: With its paisley influence and captivating watercolor effect, Kashmir embodies the essence of transitional design. It effortlessly bridges the gap between traditional and contemporary, making it a versatile option for a variety of interior styles. Whether you're looking to refresh your home decor or create a luxurious ambiance in a commercial space, Kashmir is the fabric that transcends boundaries and breathes life into your vision.
A Multicolor Symphony: Kashmir's multicolor dimension is a mesmerizing symphony of hues, creating a visual spectacle that captivates the eye. The vibrant colors blend seamlessly with the intricate paisley patterns, adding depth and character to any piece of furniture it adorns. Let your creativity run wild as you envision the numerous ways this fabric can elevate your interior spaces.
Technical Marvel:
Content: 42% Polyester, 58% Rayon
Width: 57 inches – offering ample material for various upholstery projects
Pattern Repeats: Horizontal (H) 28.34 inches, Vertical (V) 27.56 inches – ensuring a consistent and harmonious design across your upholstery pieces
Fabric Direction: UTR (Up the Roll) – for easy and efficient upholstery application
Medium Weight: Perfect balance between sturdiness and drapeability
Weight: 463 g/m2 – substantial quality fabric that exudes luxury
Cleaning Code: S (Solvent-based cleaning recommended) – for effortless maintenance and care
Abrasion: 15,000 Martindale Rubs (MAR) – a mark of its resilience against wear and tear
UFAC NFPA 260: CLASS 1 – meeting industry standards for flammability
CAL 117 TB117-2013: PASS – compliant with California fire safety regulations
Embrace Luxury with Kashmir: Kashmir Cut Velvet Upholstery Fabric beckons those who desire nothing short of extraordinary. Its rich composition, transitional charm, and multicolor allure make it a beacon of sophistication in any space. Whether you're upholstering a classic armchair, designing contemporary cushions, or adorning chic sofas, Kashmir will effortlessly breathe life into your creations.
Craft Your Masterpiece: As you embark on your next upholstery project, let Kashmir be the brush with which you paint your artistic vision. From lavish drapery to regal upholstery, let this fabric be the canvas upon which your creativity flourishes. The end result? A harmonious symphony of colors, patterns, and textures that transform your living spaces into a haven of beauty and grace.
Don't hold back; let Kashmir Cut Velvet Upholstery Fabric be your key to an interior renaissance. Enchant your guests, captivate your senses, and indulge in the allure of Kashmir. With every yard, you unravel a tale of elegance and luxury that transcends time.
Leave a comment
Comments will be approved before showing up.